Executive producer and host Mike Rowe presents a delightfully entertaining, seriously fascinating collection of his favorite episodes from America's #1 short-form podcast, The Way I Heard It, along with a host of personal memories, ruminations, and insights. It's a captivating must-read.
The Way I Heard It presents thirty-five mysteries "for the curious mind with a short attention span." Every one is a trueish tale about someone you know, filled with facts that you don't. Movie stars, presidents, bloody do-gooders, and villains—they're all here, waiting to shake your hand, hoping you'll remember them. Delivered with Mike's signature blend of charm, wit, and ingenuity, their stories are part of a larger mosaic—a memoir full of surprising revelations, sharp observations, and intimate, behind-the-scenes moments drawn from Mike's own remarkable life and career.
---
Time to Judge that Cover!
---
Book Review Rating:

5/5 stars
Cover Review Rating:

Come on it's Mike Rowe
On a serious note though, 5/5 stars
---
Is it me or can you not help but smile at this cover?
Okay, y'all it's Mike Rowe. Who doesn't know Mike Rowe? I hear him in my living room weekly as my husband watches Deadliest Catch. I actually think by saying his name repetitively I've somehow taken a seat in this diner with him and took a cup of dark hot brew to chat like old friends.
I don't even drink coffee. LOL. 
Seriously though, I can't help but smile every time I look at this cover. No, I ain't no star-struck fool blubbering incoherent sentence fragments. You know why I'm grinning? He's genuinely smiling. You can see the upward crow creases in his eyes, and no those ain't age lines. Well, there may be a few, but you know what they say about age. You only get wiser and better looking. At least, I tell myself that to help lessen the blow of aging with grace. Scientifically, though, he's smiling and happy and it incites us, the reader, to respond.
I can't stop myself from laughing now.
Mike, I want to critique your cover, but then I fear you'd end up like so many beauty pageant contestants strutting in a bikini on stage. Hmm… that would be awkward. Plus, you're not a vein type of person. Ironically in the first section of THE WAY I HEARD IT, Mike actually discusses why he chose the cover image he did and his thought process. Choice one was him on an airplane writing, and of course, choice two is for all to see.
I'm glad you went the route given the genre in which the publisher has pinned it in Net Galley. Humor. It may sound cheesy, but I'm sure your charming smile brings instant joy to any who beholds this cover.
Hell, your name had my husband give me big saucer eyes. "You get to pre-read Mike Rowe's book." I believe he's been checking every night this past week to see what I think, but that remains to be seen below in the book review now, doesn't it?
Mike, I will not critique your handsomeness, but rather the mood in which you wanted your cover to exude. You've made me smile, giggle, and I'd sit to drink a piss ass cup of coffee to hear what you had to say.
Or in this case, read.
Cover Critique 5/5 Stars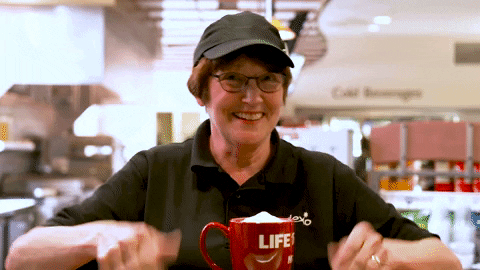 ---
Book Review It's rare my fingers are salivating to start a review halfway through a book. How can one's finger's salivate still eludes me, but they were. How can one properly review Mike Rowe's exquisite book without quoting? A dilemma for me, but a requirement from the publisher before THE WAY I HEARD IT releases October 15, 2019.
I could wait, but where is the fun in that. In the world of instant gratification, it would be a shame not to share my review until after the release. Perhaps the instant gratification lies more with me and my desire to share with you an amazing collection of thirty-five mystery stories, all with Mike's standout humor.
Now, we're not talking mysteries like the oh so scary or unsolved murders. Well, there may be one, however, most of these stories are the forgotten moments of the past. The Snippets and clues Mike weaves together pulls us into multiple games of Guess Who.
A celebrity, an architect, the average day Joe, or by chance, ever so slightly, a ghost?
While Mike playfully writes with the extraordinary use of his treasured vocabulary, I can't help but laugh or marvel as the stories unfold. Some I never would've guessed, others I'm now more intrigued to know more. Between the fascination of the mini trove of tales, Mike seamlessly incorporates the details and wisdom of his own life.
I can't help but end Mike's memoir/mystery series with a new understanding of what makes each of us unique. The special qualities not many of us acknowledge, though others find inspiration, change, evolution for new ways of technology or thinking, and for me the satisfaction in the path of my own life.
In a world where everyone thinks they know everything, Mike Rowe has shown how little we truly grasp about those who grace, graced the big screens, our home television screens, historical textbooks, the men and women working a 9-5, or sometimes the overlooked late-night workers dead shift.
I'm sad I've never listened to Mike Rowe's podcast. Sorry, Mike, if you're reading. However, I'm delighted that I discovered it through your book and look forward to tuning in for more mysterious games of Guess Who in THE WAY I HEARD IT. They say the best things are worth the wait.
Don't worry Mike, I'll wait for the next podcast.
I received an ARC of THE WAY I HEARD IT by Mike Rowe in exchange for an honest review. This does not affect my opinion of the book or the content of the review.
Let's be honest here. If it was great or sucked I have no problem writing it out.
---

---
Don't forget to connect with

Mike Rowe!
---