The leaves have started to fall, the wind carries the bitter inklings of screams, and the month of Halloween has finally descended.
HAHAHAHAHAHAHAHA!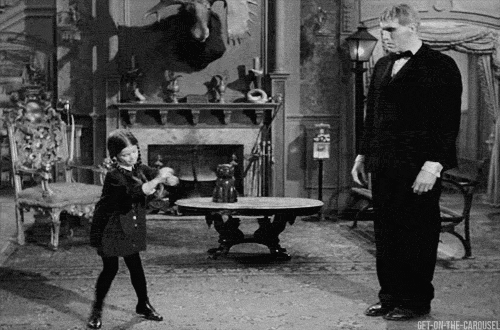 Time for another goolish round of…
BUY ON BOOK COVER ALONE?
This is the first time I may be able to put a pumpkin outside and not have it rot in ungodly summer fall-ish heat. To say I'm a bit excited is a tad understated, but for today the pumpkin must wait. It's time to kick off another month of our HOT DAMN window-shopping sprees. Sometimes I feel as if I'm just making my Santa list longer with each trip we take. HA!
So let's start our window-shopping or shall we call it a bookish trick or treat? Bookish trick or treat sounds amazing, doesn't it? Now then, forget your shoes, leave your wallets, and lets window shop the Goodreads top 10 picks of October!
---
Remember the HOT DAMN objective!
 If a book cover (designer, publisher, and marketing team) had done its job correctly, then you would've picked up that book and turned it over to find out more. So let's have a bit of fun and do some window shopping with Cover Art alone.
---
RULES
No Blurbs, No Author Bias, Hands Down Picking a Book on Nothing but the Cover Art Alone.
---
Well, I ain't about to go into that ninth house. Remember when Indiana Jones got stuck in the pit full of snakes?
Yep. That's exactly what I'm picturing in the ninth house. Fun aside, I do get that super creepy feeling here. Perhaps it's 'cause I don't appreciate the finer love of snakes.
In fact, for most people, I might be able to say spiders, snakes, and things that crawl 'oh hell no'.
So yeah, I'm not a fan of this snake, but we are talking about dark fiction, fantasy maybe, then I'm intrigued. I'm a lover of darker fiction and it's the month of Halloween, so yep, you guessed it.
HOT DAMN, I'd buy!
Awe man, I'm gonna have a problem here. I love Jojo Moyes series Me Before You.
I mean the first book turned into a movie made me cry like the baby I never wanted to be. Except, I can't pay attention to the big ass author name up there or the bestselling author explanation. Shucks.
Doesn't it suck when your own rules kick you in your own ass? Judging on the cover alone… I like it. I'm not blown away by it. The scenery has a nice sky, the greenery is lush, there's a figure on a horse. I get a western, rugged flavor.
I really want to read the blurb. The title has a nice ring to it as well. All in all, the cover is okay. I'd have to read the blurb before running away with it.
Not a HOT DAMN, but let me think of it kinda cover.
If there was a basket I'd be the flower girl. Seriously, I'm confused as to why flower petals of this magnitude are spewing from the tiny metal chalice. I don't know what's going on with October, but Indiana Jones keeps coming back around.
Like will you lose your beauty if you drink from this cup? Turn into a corpse and wither away into a pile of bones, then dust.
I like the detailing on the title's font, which tells us it's most likely fantasy. Dark. I like dark. I think this cover leans on alluding to the mood of the novel or the main character.
On imagery alone, I'm torn. I'd need to read the blurb, but per rules, I can't.
So I'm going to have to wait and make a HOT DAMN decision until the end.
If there are twigs tied in this forest and a person running around with a camera then you best run like hell.
Hibbie Jibbies! I got goosebumps from the imagery alone and add in the font. OH HELP ME! This has given me every beware feeling a person goes through while walking down an empty dark street at night.
Only it involves an imaginary friend.
This is a cover done right. I got the mood, genre, and as much as it makes me want to say "no", I can only say "HOT DAMN, I'D BUY."
Hello Yellow.
This so fits in the Fall season it's crazy. Also, I'd have to pin this as historical fiction. What I find interesting about this cover are the few areas the viewer is directed to.
One, of course, the title, which draws me to the character looking away, but before I look away my focus scans down to the author's name and the red fabric. Smart.
What significance does the key hold, the red fabric? Is the character on the run or is she trying to find someone?
My curiosity is percolating so definitely a HOT DAMN BUY.
Eh.
I'm not sure what to make of this cover. It has a strange filtered appearance, and the Eiffel Tower, which sets the scene, other than that I'm lost. On the shelves of a bookstore, I'd walk right past this.
Shame.
If the cover made me wonder a bit more I might compare the name to the movie the Phantom Threads. There's probably no correlation, but the title of this novel leans toward this type of fit.
Hate it but Pass.
How in the hell can this not have a cover yet? So yeah, didn't miss the title and author name there. Honestly, I've read every Throne Of Glass in the series except for the final.
Sigh.
That said, I can't sit here and tell you I'd buy this on Cover, 'cause there ain't no damn cover yet. I love this author and this series, but I can't HOT DAMN BUY based on that. Rules are rules.
Pass.
Somewhere deep in space, where the final frontier is anything but final, the space continuum has spit down a single shot of hellfire into the world of helium balloons. HAHAHAHA!
I had a bit of fun there. So back to window shopping.
Obviously, this is a Sci-Fi novel. I got the genre, something coming from space, a colony in space or a futuristic setting. Don't you wish there was a bit more?
Perhaps, I'm having issues with the lack of intrigue I'm experiencing. It's not the cover looks awful, but sadly, sorry I'm saying this, boring.
I probably have caused a minor meltdown somewhere in the Quantum timeline.
Look it's Fall! A book on how leaves fall from nowhere. You see back in the day I used to get flowers and leaves and press them into books. Yep, this is that book.
Wow, a leaf pressed book turned into a Pulitzer Prize Winner. Slap me silly.
Sarcasm. I have it in spades when the mood hits me right. That or being harshly blunt. The lack of covers I've encountered with authors who've won big awards is beyond annoying.
Yes, yes, you got notary, but it doesn't mean you sacrifice the art of the cover. Blah.
Pass.
What draws your interest?
The title capture's my attention more than anything else on the cover. For what is conveyed through the text at the top of the cover, I'm understanding the dark avenues this girly pink book may take me.
The cover stands out, but it isn't calling to me. I'm sure it will call to someone else, but it's too monochromatic. I'm torn 'cause I want to like this cover, but I'm not drawn to it as one captivated should find one's self.
Or is it I'm in the mood for Fall and this is screaming Spring?
In the end, I'd have to read the blurb to get into this haunting, action-driven story. Sadly, per the rules, I can't. Pass.
---
COVER SHOPPING RECAP!
So from the first top 10, I would walk away after any of my last-minute debates with these 3 on Cover alone.
---
FOR MY NEWBIE READERS, YOU MIGHT BE THINKING…
THIS IS CRAZY. WHO BUYS ON LOOKS ALONE?
Well, most of society, even those who claim to not be persuaded by this are in some small capacity. We buy clothes, food, movies, shows, products, etc. based on how it appears. How it is marketed. Imagery feeds the soul, the mind, and tantalizes its viewer. Creates desire, intrigue. This is why getting the cover of a novel right is paramount for its author, genre, and readers.
---
What books would you buy on the cover alone?
Remember the rules! Tell me your picks below in the comments. 
Stay tuned and keep an eye out for the second edition of HOT DAMN LOOK AT THAT COVER in October! 
MOTHER COVER LOVER OUT!