A lush, dark YA fantasy debut that weaves together tattoo magic, faith, and eccentric theater in a world where lies are currency and ink is a weapon, perfect for fans of Leigh Bardugo and Kendare Blake.
Celia Sand and her best friend, Anya Burtoni, are inklings for the esteemed religion of Profeta. Using magic, they tattoo followers with beautiful images that represent the Divine's will and guide the actions of the recipients. It's considered a noble calling, but ten years into their servitude Celia and Anya know the truth: Profeta is built on lies, the tattooed orders strip away freedom, and the revered temple is actually a brutal, torturous prison.
Their opportunity to escape arrives with the Rabble Mob, a traveling theater troupe. Using their inkling abilities for performance instead of propaganda, Celia and Anya are content for the first time . . . until they realize who followed them. The Divine they never believed in is very real, very angry, and determined to use Celia, Anya, and the Rabble Mob's now-infamous stage to spread her deceitful influence even further.
To protect their new family from the wrath of a malicious deity and the zealots who work in her name, Celia and Anya must unmask the biggest lie of all—Profeta itself.
---
Book Review Rating: 4/5 stars
Cover Review Rating: 5/5 stars
---
Time to Judge that Cover!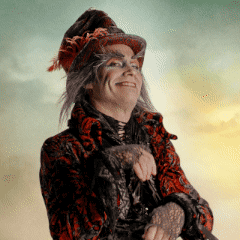 ---
Cover Critique
I expected nothing less of perfection on this cover given the publisher name and background. I'm pretty darn sure they have a quite the amazing team compiled to create gorgeous book covers.
That said sometimes a cover can go very wrong still, but this isn't that case.
In fact, the drawn aspect of this cover has so many sweet spots from the novel. I love, love, love when a designer takes the time to pinpoint certain elements to bring forth and shine. Let's take a moment to admire all of the artists/designers hard work.
This took time, I almost wonder if the artist read the manuscript to get so much of the illustrations correct. This possibility is like music to my ears. Thank you, thank you, thank you.
The tone/mood and plot are drawn exactly in the style most tattoos are done. If you read the story and then examined the cover once more it would seem as if the illustrations told the whole story in one swish of a quill. The black background hints at the dark part of the fantasy, the red pops around the title, and the white scrolling inserts where the title in embedded stands out.
Even the little blibs are done to resemble diamonds or another pattern.
I really can't complain. Okay, I might have one tidbit I'd gnaw on. I wished bigger publishers still acknowledged the creator or creators of such a magnificent cover design inside the interior guts of the novel. Why not? They had a hand in creating it, therefore they should be acknowledged.
Afraid this artist/designer/ or team is going to leave your ass in a hot minute?
So we have here a magnificent cover with no attribution to its creator.
Sigh…
---
Update
Kim Smejkal graciously shared the name of the designer on Instagram with me. Such delight!! For those of you dying to know as I was the designer of this amazing book cover was…
Emilee Rudd!
Find this amazing Designer, Illustrator, Handwriting Goddess at:
---
Book Review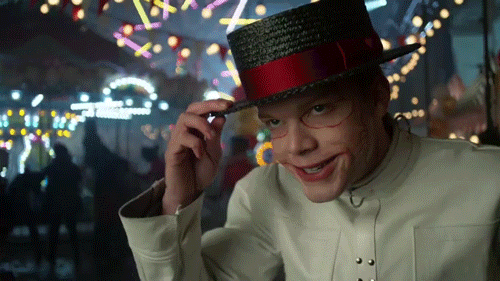 Let me take you back in time with me. A few years ago there was this little contest I participated in, which I'm sure some of you know. (Clears throat) Pitch Wars?! Anyways, I didn't make it, but the Author Kim Smejkal did if I recall correctly. Funny thing is we actually swapped our first two chapters to critique each other. Kim was way ahead of me in the game then, super busy with the competition, and sadly we didn't keep up. Her first two chapters, however, always stayed tucked away in the recesses of my mind.
So when I saw this title pop up, I couldn't help but hope to read her full book baby.
My initial thoughts on INK IN THE BLOOD… have you ever been to a Cirque Du Soleil? I've been to many and INK IN THE BLOOD is a spot on the dark vision of what happens when theatrical members rebel against the religious hypocrisy in this fantastical land. Take the old gypsy caravans, mix a dash of cirque, tattoos, and then a dose of written tales twisted and re-imagined.
Smejkal has done a vast amount of world-building. It takes careful attention to not overlook any details, 'cause this novel relies on you the reader maintaining an understanding of those inkling rules, Profeta deceptions. Especially with the characters. Now, even though it states it's dark, which it is, we are talking dark as in situational. There's not tons of blood-shedding in INK IN THE BLOOD.  Some of course. Honestly, it's probably one of the cleanest reads I've had in dark fantasy.
INK IN THE BLOOD fits perfectly into the YA/teen category, and I think many will find the change from many high octane action novels to calculated mental, counter moving, plotting strikes a welcomed change.
Overall, I enjoyed INK IN THE BLOOD and rated it 4 out of 5 stars. I am a dark fantasy, gory, high action, love kind of girl, but I do love when a novel challenges me to slow down. Pay attention. Kim Smejkal's novel INK IN THE BLOOD has done just that.
I received an ARC of INK IN THE BLOOD by Kim Smejkal in exchange for an honest review. This does not affect my opinion of the book or the content of the review.
Let's be honest here. If it was great or sucked I have no problem writing it out.
---
Don't forget to connect with

Kim Smejkal

!