BUY A BOOK ON THE COVER ALONE?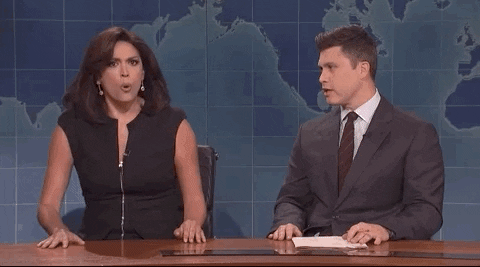 Welcome back everyone to…
 For those of you just clicking in and missed Hot Damn Look At That Cover- August Edition 1 window shopping the top 10 books publishing this month then catch up here!
Today, we are going to continue to follow the yellow book road of Goodreads top 200 in this second edition, covering the next 11-20 top books publishing in August.
---
Quick Conceptual Review First
If a book cover (designer, publisher, and marketing team) had done their job correctly, then you would've picked up that book and turned it over to find out more. So let's have a bit of fun and do some window shopping with the top 200 rated publishing books of August on Goodreads using the Cover Art alone.
---
RULES
No Blurbs, No Author Bias, Hands Down Picking a Book on Nothing but the Cover Art Alone.
---
This is screaming so hard at me in the best of ways. Again the BRIGHT COLORS!!! It's like an irresistible pull. I'm the fly, the book is going to burn me, but I'm gonna so pick up this sucker 'cause I want this burn.
I need this contemporary romance burn. Yep. (Let's insert a freaking hell yeah at the illustration in POC!)
Mad love! Even the title takes full advantage of the dating world right now.
Bright, Cover to the Genre is on point to what I can tell given the front wordage, Artistic, and POC voice.
This is an easy HOT DAMN, I'D BUY!
Oh look honey, it's not another pair of decapitated figures. Seriously, I don't hate all decapitated figures in love.
The vibe def contemporary romance, perhaps a heartbreaking one? (They did loose their heads? LOL. How can you say anything, if one has no mouth?)
There's not a ton of dimension here drawing me in, if that makes sense. Even the coloration is a tad muted, and so is the novel title. I love romances, but man, I wish they would've punched something up to make it stand out more. Go with the photo cover great, I have no issue, but make the title grab my attention more.
Sigh… so much could've been done to the coloration of the title. Pass
Ummm… is this a graphic novel for adults, YA?
OH HOT DAMN YEAH BABY!! I won't lie, I read Dog Man or Captain Underpants with my kiddos almost every night. So a graphic novel for me to enjoy?
Sold.
Even if it's not a graphic novel for me. Sold. I'd scoop this baby up so fast into my pile, and then squeal when I got home.
HOT DAMN, HOT DAMN, HOT DAMN!
Ekkk… did I just piss my pants? Yeppers, this is 100% gonna be sit on the toilet cause you might be terrified beyond getting to the white throne. Don't you get like the Amityville horror feel?
Like I need to read this with a flashlight during a bad storm to scare the living crap out of myself even more. So you might guess, I'm thinking about reading this novel.
I love the creepy scary, even if I have to recover for a few days afterward. I get the haunted house/murder/killer/serial?/run for you mother freaking life just at the cover. So the cover works great.
HOT DAMN, PISSED MY PANTS, I'D BUY!
So I'm a sucker for bright colors, but this one falls flat for me.
There needs to be more contrast in the wordage. The white text and the diamonds almost fade away into the yellow.
I get the title reflecting down below, which is a good play, but the lack of contrast makes this a hard one to go HOT DAMN. Why not have yellow and black? Or even any darker color?
Sadly, I'd find myself scooting down the aisle to the next cover. Sigh… pass.
Cuteness overload is in progress!
This novel either revolves around a dog, or has a dog in it with an emotional attachment from the MC. I think the cover is cute and quirky, but it's not making me want to pick it up.
This is one of those books you need to read the blurb to know for 100% if you'd buy/read/enjoy. Since I can't read the blurbs per the rule, I'd probably have to pass. I don't think the cover did anything wrong, but I just don't feel like crying over a dog in a story or a story about dogs. Marley and Me killed me.
Bye bye adorable puppy.
Do you hear the Sex In The City Music?
Oh, I LOVE THIS COVER! I get Devil Wears Prada, Sex in the City, perhaps even a Hitch kind of mixture here. Some steamy, eye-popping scenes perhaps? Or even a woman who seduces and falls in love, which she isn't supposed to do.
Oh, I'd pick this up with no shame and wiggle all the way to the register to buy.
HOT DAMN, HOT DAMN, I'D BUY!
I'm thinking Sci-fi or Fantasy? Which is my main zone of existing. I like the understated colors of this cover. It feels zen almost.
The art is by itself gorgeous. The straighter lines of the title makes me want to lean Sci-fi, but I'm not sure do to the whimsical feel of the cover art.
I'm interested. In a bookstore filled with other cover's I've seen above I'm not sure if it would stand out enough for me to immediately pick it up.
I'm not sure if it's a HOT DAMN I'd buy, but more like if I haven't hit my limit of how many to buy I'll slide it into my stack.
MAYBE, NEED TO THINK ABOUT IT.
I'm so lost.
Is this a domestic fiction? There's oranges and luggage. If I was to cover the suitcases down below the cover would look like a cook book. Right?
Then I cover up the oranges and its a domestic fiction or even historical. Though everything pops and gets my attention, I'm so confused at what is trying to be conveyed.
This would be another I have to read the blurb, but since I can't per the rules, it's a hard pass.
 I just believe I heard the swoosh of all the undies hit the floor in the bookstore. So if this isn't a panty dropping adult, erotic hints of romance, than I don't know what is.
Come hither screams the man missing his shirt, but playing sports. I've got a steamy sexy read for you. I've never been one able to pick up the overtly sex driven covers without blushing into oblivion.
Like peeking around to see who is looking at you for checking out half naked dude. To open one's cover… cough, cough. What's gonna fall out there now? How broken is this knight?
I think this would add a roaring bubble to anyone's bath tub, nightstand stack, or needing a bit of winter heating.
I, however, don't know if I can read this with the man staring so intently. Lord, if my husband sees me with this I'd get quite the odd stare. This cover is doing it's job, but this little lady has to go bye bye hot man. I don't think my man will like the way you're looking at me. Pass
---
Recap!
So from 11-20 of Goodreads top 200 publishing in August, I'd walk away with these 5, after some debating. I keep going back and forth on the Dragon Republic, but I'd give it a chance. Yay, I'd be imaginary broke for a bit. HA!
---
While I wouldn't walk out from my window shopping trip on covers alone with Broken Knight 'cause of my personal preference, I can't fault the cover doing anything wrong.
I think many readers who adore this steamier section of genre would def be drawn in to picking up, turning over, and buying. So I have to put it in Not for me, but still a Great cover section.
---
Now some of you may be like this is crazy. Who buys on looks alone? Let's review from HOT DAMN LOOK AT THAT COVER- August first edition.
Well, most of society, even those who claim to not be persuaded by this are in some small capacity. We buy clothes, food, movies, shows, products, ect. based on how it appears. How it is marketed. Imagery feeds the soul, the mind, and tantalizes its viewer. Creates desire, intrigue. Which is why getting the cover of a novel right is paramount for its author, genre, and readers.
---
Alas, this is only my fair opinion and tastes.
What about you?
Which books would you pick up and HOT DAMN BUY on impulse of imagery alone? Tell me your feels below in the comments.
Keep an eye out for HOT DAMN LOOK AT THAT COVER- August Edition 3 coming next week! We will switch things up from Goodreads and take a look at the covers for the top Independent Publishing's top 20 for August.
Mother Cover Lover Out!